E-Tech Components (UK) Ltd - Elpress in the UK
Elpress Mini PVL130S Electro Mechanical Crimping Tool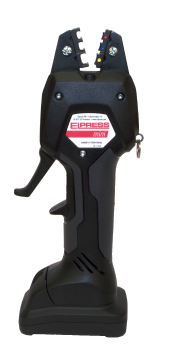 PVL130S
- Elpress mini tool with intuitive Power Sense function
The PVL130S combines the benfits of manual crimping tools along with the advantages of battery-powered hydraulic crimping tools. Its light weight means the tool is easy to use and, in combination with the powerful drive technology, results in a rapid crimping process at optimum quality.

Characteristics:
• Single-handed operation for easy control of all tool functions
• Electronic control with locking function and monitoring for complete closing of the dies
• A safety clip is used as fall protection when used outdoors
• Motor protection ensures safety in cases of overload
• Easy and comfortable to use with one hand thanks to its ergonomic 2-component housing with grip-friendly protection
• Extremely lightweight and rapid crimping process for maximum efficiency
• Powerful drive technology for effortless operations
• High-performance 10.8 V Li-Ion battery – with indication of charging status
• LED work lighting
• Automatic return of dies when crimping is completed
• Manual return of dies, where necessary

The tool is delivered without dies, for suitable dies, see table below.

Application
Area
Dies
Crimp Range
Insulated
0.5 - 6mm²
SA0760
Uninsulated

Uninsulated

Uninsulated
0.25 - 2.5mm²

0.5 - 6mm²

4 - 10mm²
KB0325

RB0560

WB4099



End Sleeves
0.5 - 6mm²

4 - 10mm²

10 - 25mm²

35 - 50mm²
EB0560

EB4010

EB1025

EB3550



*Technical Data Subject to Change Without Notice



Elpress Mini PVL130S Electro Mechanical Crimping Tool Data Sheet
All enquiries:
Contact Us
+44 (0)1744 762 929