E-Tech Components (UK) Ltd - Elpress in the UK
Amphenol Rhino MIl DTL 38999 Series Connectors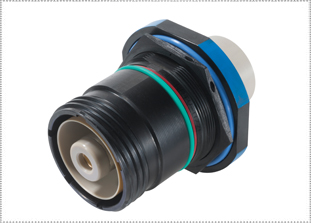 SINGLE POLE HIGH POWER CONNECTOR - ENVIRONMENTALLY SEALED; MATED AND UNMATED


Amphenol combines the benefits of field proven MIl-DTL-38999 Series III circular connectors with low resistance hyperbolic RADSOK® contacts that extend the boundaries of high power connector technology. Designed to meet the latest military and industrial specifications, Rhino 38999 connectors also meet stringent safety requirements.

Rhino 38999 connectors are intended to satisfy market requirements for high power & voltage applications in harsh environments. With IP69K sealing, an anti-decoupling ratchet mechanism, superior EMC performance and RoHS compliant Black Zinc Nickel plating, Rhino 38999 connectors ensure a reliable connection even under high vibration.

High reliability applications including vehicular, aerospace, industrial automation, mining, offshore, mass transit, communications and other harsh environment applications can all be addressed using the Rhino 38999 series.To ensure that your crimped connections maintain a high and even level of quality, regular checks of the crimping tools must be carried out. Maintenance procedures are facilitated by signing special preventive maintenance agreements, whereby we call in your tools in accordance with the agreement and return them, checked and certified.



Amphenol Rhino MIl DTL 38999 Series Connectors Data Sheet (Elpress Tooling to be used with connectors)
All enquiries:
Contact Us
+44 (0)1744 762 929
AMPHENOL RHINO SERIES FEATURES



•

Technology
Current rating up to 1000A, Operating Voltage up to 875VAC/1238VDC



•

Mechanical
38999 Series III or Bulldog breakaway connector interface, jam-nut, flange mount and inline connections, 500+ matings



•

Termination
Crimp, screw or flathead contact termination available. Straight or right angled backshells available for strain relief



•

Safety
IP2X, plastic cap on pin contact to prevent shock



•

Environmental
Aluminium, Stainless Steel or Aluminium Bronze shells available. Temperature range -55°C to +125°C, 500 Hour Salt Spray - plating dependent. IP69K sealing.



•

RoHS Compliant
Zinc Cobalt and Zinc Nickel plating finishes available.
AMPHENOL RHINO SERIES APPLICATIONS



•

Harsh environment vehicles



•

Hybrid and electric drive vehicles



•

Military aircraft



•

Naval systems



•

C4I base stations



•

Power distribution modules



•

Communications towers



•

Satellite communications



•

Mass transit
Contacts & Tooling



Elpress specified tooling to be used in conjunction with Amphenol Rhino Series Connectors





PINS



LAYOUT
CRIMP
TERMINATION
SELECTION
WIRE SIZE
HAND TOOL
POWER TOOL
HEAD
DIE
STRIP LENGTH (MM)
13-85*
-1
16mm

²

-
Elpress PS710E251
Elpress
DV1300
Elpress 13DB9
13.5 +0.0 / -0.5
-6
10mm

²

-
Elpress 13DB8
13.5 +0.0 / -0.5
-7
6mm

²

Elpress ES2258
-
-
-
10.0 +0.0 / -0.5
15-120*
-1
25mm

²

-
Elpress PS710E251
Elpress
DV1300
Elpress 13DB11
17.0 +0.0 / -0.5
-6
16mm

²

-
Elpress 13DB9
13.5 +0.0 / -0.5
17-185*
-1
50mm

²

-
Elpress PS710E251
Elpress
DV1300
Elpress 13DB14.5
19.5 +0.0 / -0.5
-6
35mm

²

-
Elpress 13DB13
19.5 +0.0 / -0.5
21-340*
-1
95mm

²

-
Elpress PS710E251
Elpress
DV1300
Elpress 13DB20
22.0 +0.0 / -0.5
-6
70mm

²

-
Elpress 13DB17
22.0 +0.0 / -0.5
-7
50mm

²

-
Elpress 13DB14.5
19.5 +0.0 / -0.5
23-500*
-1
120mm

²

-
Elpress PS710E251
Elpress
DV1300
Elpress 13DB22
24.5 +0.0 / -0.5
-6
95mm

²

-
Elpress 13DB20
22.0 +0.0 / -0.5
-7
70mm

²

-
Elpress 13DB17
22.0 +0.0 / -0.5
-8
50mm

²

-
Elpress 13DB14.5
19.5 +0.0 / -0.5
25-1000**
-6
240mm

²

-
Elpress PS710E251
Elpress
DV1300
Elpress 13DB30
35.5 +0.0 / -0.5
-7
185mm

²

-
Elpress 13DB27
35.5 +0.0 / -0.5
-8
150mm

²

-
Elpress 13DB25
35.5 +0.0 / -0.5
-9
120mm

²

-
Elpress 13DB22
35.5 +0.0 / -0.5

* Single Crimp Termination
** Double Crimp Termination




SOCKET




LAYOUT
CRIMP
TERMINATION
SELECTION
WIRE SIZE
HAND TOOL
POWER TOOL
HEAD
DIE
STRIP LENGTH (MM)
13-85*
-1
16mm

²

-
Elpress PS710E251
Elpress
DV1300
Elpress 13DB9
13.5 +0.0 / -0.5
-6
10mm

²

-
Elpress 13DB8
13.5 +0.0 / -0.5
-7
6mm

²

Elpress ES2258
-
-
-
10.0 +0.0 / -0.5
15-120*
-1
25mm

²

-
Elpress PS710E251
Elpress
DV1300
Elpress 13DB11
17.0 +0.0 / -0.5
-6
16mm

²

-
Elpress 13DB9
13.5 +0.0 / -0.5
17-185*
-1
50mm

²

-
Elpress PS710E251
Elpress
DV1300
Elpress 13DB14.5
19.5 +0.0 / -0.5
-6
35mm

²

-
Elpress 13DB13
19.5 +0.0 / -0.5
21-340*
-1
95mm

²

-
Elpress PS710E251
Elpress
DV1300
Elpress 13DB20
22.0 +0.0 / -0.5
-6
70mm

²

-
Elpress 13DB17
22.0 +0.0 / -0.5
-7
50mm

²

-
Elpress 13DB14.5
19.5 +0.0 / -0.5
23-500*
-1
120mm

²

-
Elpress PS710E251
Elpress
DV1300
Elpress 13DB22
24.5 +0.0 / -0.5
-6
95mm

²

-
Elpress 13DB20
22.0 +0.0 / -0.5
-7
70mm

²

-
Elpress 13DB17
22.0 +0.0 / -0.5
-8
50mm

²

-
Elpress 13DB14.5
19.5 +0.0 / -0.5
25-1000**
-6
240mm

²

-
Elpress PS710E251
Elpress
DV1300
Elpress 13DB30
35.5 +0.0 / -0.5
-7
185mm

²

-
Elpress 13DB27
35.5 +0.0 / -0.5
-8
150mm

²

-
Elpress 13DB25
35.5 +0.0 / -0.5
-9
120mm

²

-
Elpress 13DB22
35.5 +0.0 / -0.5

* Single Crimp Termination
** Double Crimp Termination